Every few years I pop up to the bike show, it's a good opportunity to learn about new technologies and trends (those that stay, and those that come and go!), pick up some free goodies and the odd tool (usually discounted at shows like this), and enter a few competitions 🙂
As a bike mechanic it's also a good opportunity to chat with manufacturers about the technical-side of their products, as I'm bound to encounter some of them at some point in the future.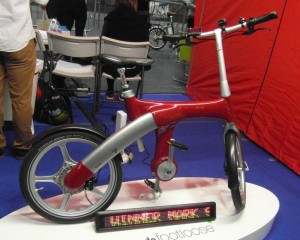 Let's start with the most obvious development over the past few years, electric bikes. This Mando Footloose (red/silver bike in this photo) is different in that it doesn't have a chain or any other direct-drive from pedals to wheel, instead the pedals turn an alternator which charges a battery, and the battery powers the wheel. (much like some hybrid cars)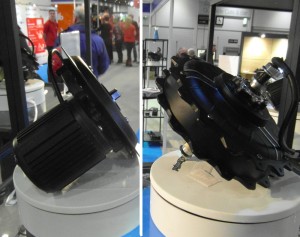 Also new this year was retro-fit motor kits (they've been around for a wile, but I've never seen them at the show), these ones from TBA France are part of a kit, which is in the £500 area at the moment but I'm sure will come down in price over the next few years. Seen here are a bottom-bracket mounted motor, and a hub version. The kits contain all the bits you need; motor, controller, charger, wiring, etc.
I asked the guy on the stall about regenerative power (i.e. charging the battery when you're braking) but he said that most people have ignored that because of cost, and the fact that it's hardly worth doing (The parallel he drew was that it's worth doing in Formula 1 racing, but everyday car manufacturers aren't doing it)
Here's a few more electric bikes I liked, also sharing features such as multi-speed hub gears. The first two have bottom-bracket integrated motors, although there were front and rear-hub powered models around the show too. The green one folds, has disk brakes, front suspension, front wheel motor, and both dérailleur and hub gears. Didn't dare look at the price!
Technologies that have been at the show for a few years now (so presumably staying with us!) are belt-drive (instead of chains), multi-speed hub gears, increased use of disk brakes, mountain bikes with single front chainrings (coupled with a wide-range cassette), and hydraulic brakes. Large-diameter head tubes also seemed to be all over the show this year, which makes sense if you think about the frame materials being used.
Had a good chat to the guy on the Rolhoff stand about hub gears, their continued development from the point where Sturmey Archer effectively gave up on R&D, comparisons with Shimano offerings, etc. They had cut-away models explaining the workings.
Another trend this year was large-diameter disk brakes, and looking closely at some bikes it appears that these can be retrofitted onto bikes which have existing "normal size" disk brake mountings. In this photo you can see that there are adaptor pieces which make this possible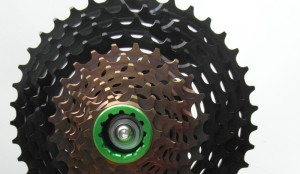 A nice selection of components on the Hope stall, including some wide range cassettes, some of which now have have 10-tooth sprockets (previously the smallest sprocket you could get was 11-tooth). This may not sound like much but it is significant because going from 11 to 10 gives a 10% increase in gear ratio, useful when the front chainring is small (as a lot of them seem to be now, especially on mountain bikes).
Hope achieve this 10-tooth sprocket my machining the whole of the lower-gears from a single piece of metal, and the 10-tooth sprocket "hangs over the end" of the freehub.
Tannus were displaying their solid/punctureproof tyres once more, a great idea (plus they come in some fantastic colours) but they haven't come down in price significantly yet, still about £40 each. Give it a few years and I'll be buying some myself, they can carry 75kg per wheel so I have a project in mind for which they will be just right!
I spent about 6 hours at the show, mainly doing research and chatting with manufacturers, but there was a lot of stalls I didn't visit. For example there are many food/nutrition stalls, clothing, fitness testing, stunt demonstrations, races and challenges, lights and accessories, solicitors, CTC & Sustrans, insurers, etc, etc.
Was there anything unusual this year? Apart from the Mando Fttloose mentioned at the top of this article, and some folding cycle helmets, the CleanSpace stand grabbed my attention as it claimed to use devices powered by the air [radio waves], a major part of Nikola Tesla's work back in the late 1800's. Although CleanSpace's devices aren't truly powered by this technology, it is utilised to make the batteries last longer than they otherwise would have done. (mere microwatts of power are collected apparently). As an electronics engineer this made for an interesting chat.
---
A few other bits and bobs I liked…