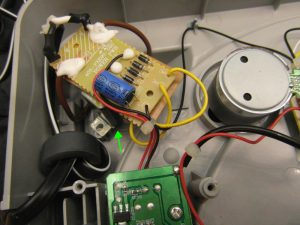 An Audio Technica AT-LP60-USB turntable which was bought in the USA (i.e. 120v mains supply) and shipped to the UK. The owner accidentally plugged it directly into the UK 240v and from then on it didn't work 🙁
(they've since bought a 240v/120v adaptor)
The manufacturers said that it would be uneconomical to repair, but I disagree!
Seen here is part of the power supply, and the transformer which has burned out (having had too much voltage applied)
Testing, both with USB and RCA outputs. All working and £20 charged in total.
I chose a Tesla album for it's appropriateness; The band took their name from the wonderful inventor Nikola Tesla whose work often involved transformers 🙂


Sound Recorder on a laptop, proving that the USB circuitry is working