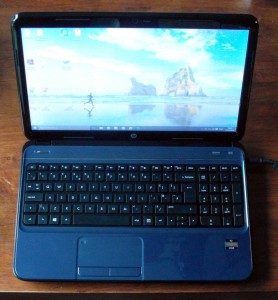 A Hewlett Packard g6 laptop with a flickering screen. You could get it to work with careful positioning, but you shouldn't have to put up with such things!
The solution is to strip the laptop down and re-seat the motherboard/graphics connector. Sometimes things are more serious and the cables may need replacing, but not in this instance 🙂
Other problems on the laptop were a virus that was preventing online emails from being read. I removed all the badness and all was well again.
I charged £25 for this, which included some tuition on bookmarking and spam prevention.