An Gepida Reptila 1000 electric bike, which had noisy transmission and very jerky power assistance. This one is from about 2008, and fitted with a Yamaha motor (the company use Bosch units now)
Both problems are due to the chain occasionally skipping over the motor-driven sprocket; the reason is twofold, one the chain is stretched, and two the driving wheel is extremely stiff to turn. The chain is easily replaced (and cheap too, as it's 1/8″ size!), but we'll have to disassemble the motor/gearbox to find the other problem.
While most repair companies frown and/or run away from disassembly like this, I'm confident enough to do it. With no warranty, no UK Yamaha service centre, and seemingly no UK dealers who could help ("we used to do those" and "I couldn't say" were common responses), it was the only remaining option anyway.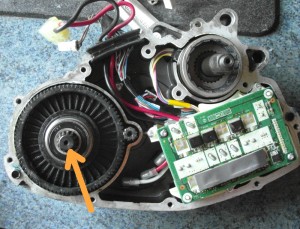 Inside the motor casing I find that the output shaft (see arrow on second photo) rotates normally when the case is removed, but becomes stiff again when the casing is replaced. The casing isn't damaged in any way so I can only assume that dirt gets into the clutch spindle and causes the high friction. Having sent an explanation and photos to Gepida in Hungary, they have confirmed that this is a know fault, and are offering me a replacement clutch for €25.
In fact Gepida were very helpful to me (much more so that their UK distributors), and even the tech guy's English was really good.
The clutch is on order, and I'll let you know what happens when it arrives…