A customer called me, saying that "the pedals are turning but the wheel isn't"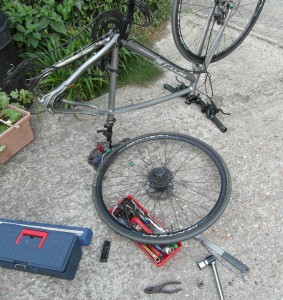 Despite being an expensive bike it had been poorly maintained, and dirt had found it's way into the freehub [the part that clicks when you are freewheeling].
This was my first 'mobile' job (see notes below), which explains why I'm working on the customer's driveway!
The correct thing to do would be to order a new freehub (approx £25), but the owner was keen to get the bike back on the road quickly. The solution was to strip down the freehub (see photo below), clean, re-grease and reassemble it. In this case the ballbearings were damaged so these were replaced.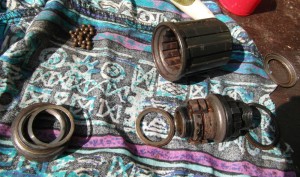 ---
Notes: This was a mobile call out, as the customer wanted the bike to be repaired at his house. I found it a lot more difficult than working on bikes at my workshop in Battle, because of the huge number of tools I needed to carry (you never know what you're going to need!). While I'll try to avoid mobile work in the future, it can be done.