A friend has his PC connected to a Hi-Fi amplifier, and tells me that the speakers buzz when the PC is switched off. I lent him a ground-loop isolator to try but this didn't make much difference. What we need to do is disconnect the PC from the amplifier when the PC isn't on…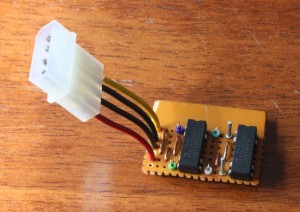 I built thus little circuit to do just that; it's simply two signal relays, powered by one of the PCs spare internal connectors. This one isn't particularly well packaged and probably wouldn't pass many international safety standards, but it was built for someone who didn't mind that.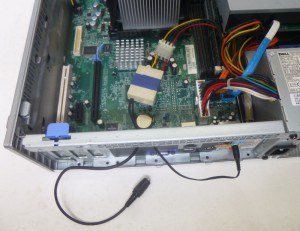 Here it is, installed in the PC. One lead goes into the 'line out' socket, the other goes off to the amp.
Well it works (of course) but there's some clicking when the PC switches off (presumably the audio section of the PC, or the software driving it, shuts down before the power finally drains from the main PSU). Maybe I'll come up with a "Mk2" design one day…